ZULMI PESHAWAR Pakistan Super League
The 2019 cricket season will officially open on Sunday 7th April with the training.
Nous vous souhaitons a tous une très belle fête de l'escalade 1602 
First  Training Session 8th April 2108
Welcome all new members 
Latest News: 2018      Le Club vous souhaite une très Bonne et heureuse année et le bien venus aux nouveaux membres. Les événements de cet Année commenceront déjà par la célébration du 23 Mars, et vous en serez inviter ultérieurement.
70th Independence  Day 2107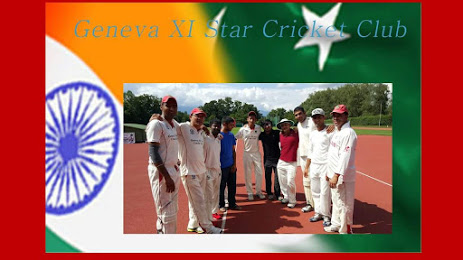 Voici un reportage de léman bleu
CSPL Match Report
XI Stars set new CSPL record
Geneva XI Stars CC 448-10 (39.3 overs) beat Rhône CC 115-10 (21.0 overs) by 333 runs
...
See More
Geneva XI stars won the first league match of the season against Rhone Cricket Club by a whooping margin of 333 runs. The stars scored a swiss league record score of 448 runs with Raja Hafeez the pick of the batsmen with 153 runs, M. Ali 79 runs and Aman, Lalit and Asghar contributed 42,40 and 32 runs respectively. Asad shah took 2 wickets in his first over to overpower the visiting Rhone who were bowled out for 115 runs.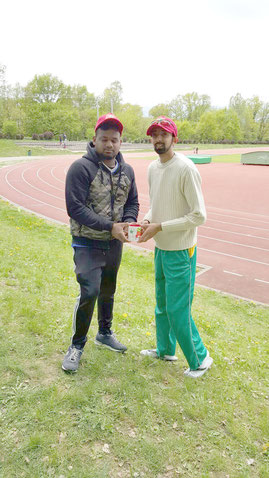 Geneva XI Stars Snrs wins the battle of debutants
16 April 2017
Scorecard: Click Here
With both teams in their debut season a tough contest was on cards and the early chill of the season set up perfect setting in lush green Onex and the contest did not disappoint at all.
Rhone CC skipper won the toss and elected to field first. XI Stars seniors opened the batting with skipper Waleed Saleem and Vithurasan, with the later being the aggressor during the first six overs power play. Waleed settled down quickly with some thunderous boundaries and set in for a long haul. Knowing how difficult it is to set a target on the fast scoring Onex ground, Waleed ensured that the momentum is maintained and provided for the platform for the team to score as many runs as possible
At the end of 10 overs the scorecard read 89/2 and the good old slog was on to ensure that the the host team then pushed on to score 200 in the allotted 20 overs,which they eventually did on the last ball of the innings thanks not only to some great stroke making, but also due to some early season rustiness in bowling and fielding from the visitors. Waleed top scored with 69 and was ably supported by Javed, Dinesh and Ameer who all displayed some clean hitting clearing the field.
Rhone CC then began their innings on a disastrous note, losing two wickets in the very first over to Vithursan, who also took a third wicket in his second over, to leave Rhone tattering. However, Iyer and Talukdar then got together to consolidate and kept Rhone in the chase. The partnership was then broken as Talukdar hold out at mid-on to a brilliant catch taken by Dinesh.
 However, early season rustiness once again ensured generous bowling and fielding which was taken advantage by the middle and lower order of Rhone meant that the visitors only needed 16 off the last over with 1 wicket in hand. XI Stars. Vithurasan who has been excellent through out the match with his bowling took the responsibility and bowled a great last over to give the hosts the victory by 8 runs in a thrilling match.
 
From a cricket perspective, a great start to the season with a high scoring thriller.
Both teams next play again in May.
This report was also published on Cricket Switzerland website: 
Season Begins 02.04.2017 First Warm Up Match between GE XI Stars vs GE XI Seniors at Onex on 2nd of April, 12.30 pm.
Geneva T20 Cricket Championment 2017 (GT20)
GT20 3RD EDITION 8 et 9 April
The third edition of the Geneva T20 Championment will begin from April 8  in Geneva. Matches will be played in Onex and  Bout du Monde. With big crowds expected to return to see the stars in action in both Onex and Bout du Monde.
Latest News-2016
Geneva XI Stars travelling to Prague for Pepsi cup third Edition
08.09.2016 - 11.09.2016 
Geneva XI Stars CC VS Bern CC (Pickwick Semi-Final T20) at aux Evaux Onex, Geneva 
04.09.2016
Geneva XI Stars 231-4 (20.0 overs) beat Berne CC 191ao (18.4 overs) by 40 runs

Match Officials: Paul Cawsey& Krishna Varahan
Geneva XI stars booked a place in the finals against Nomads CC after beating Bern CC in a high scoring thriller.

The stars were put into bat by Bern after winning the toss. Raja Hafeez immediately developed a liking for the Bern bowling and hit lustily all around the ground to score 83 runs. Lalit Dubey continued with his golden form with the bat and scored 66 runs hitting all the bowlers at will. The final punch was delivered by Vipin who is popularly known as "Puppo Gayle" by his team mates as he scored 41 runs from 19 balls. The stars reached a healthy total of 231 runs in their 20 overs.
The Berne reply was equal to the task as they started briskly and kept up with the run rate. The first blood was however drawn by Ali Saleem who bowled the Berne captain with a beauty. Amandeep Singh then applied the brakes in the middle overs by bowling tightly which created panic and then all the stars bowlers Asad Shah, Himank Anand and Jassi bowled the opposition out for 191 runs.
The stars will now face Nomads CC in the finals on the 2nd of October.
Geneva XI Stars march into Pickwick Final
Geneva XI Stars 231-4 (20.0 overs) beat Berne CC 191ao (18.4 overs) by 40 runs

Match Officials: Paul Cawsey& Krishna Varahan
Geneva XI Stars CC VS Nomads CC (Swiss League Semi-Final) 
18.09.2016
Geneva XI Stars: 137/10 in 39.1 overs lost to Nomads CC: 140/4 in 24 overs
Scorecard: Click Here
Geneva XI Stars begin their PT20 campaign with a huge win over Uprising CC.
Geneva XI Stars played their first Pickwick T20 match against last years semifinalists Uprising cricket club on 15th may at their home home ground and marked a big win with a margin of 105 runs.
After winning the toss on a sunny day, captain Kuldeep Rawat chose to bat, and sent Vipin Paviithran and Houmayun Ali Sherzai to open the innings for the Stars.
It was clear from the first ball of the innings that Vipin Paviithran was in the mood to send the new shiny ball out of the fence and his partner in crime Houmayun sherzai expertly helped him by rotating the strike while punishing any bad balls on offer. Reaching his half century just in the 5th over vipin scored his fastest half century with a strike rate of almost 300.00 .
Uprising after trying different bowling combinations brought in experienced Bhaskar Chakravarthy to bowl the 9th over, which immediately brought them success by picking the wicket of Vipin who missed out on a hundred. He scored a magnificent 90 of just 36 balls with eight massives sixes. The scorecard looked ominous for Uprising CC reading 151/1 in 9.4 overs.
Next batsman in was Arjun Singh Bisht , who played sensibly and initially rotated strike to let the settled Houmayun face the bowling. Bhaskar however continued bowling with guile and got Houmayun out in the very next over caught excellently by Nelson Burrell on mid wicket fence for a well made 46 in just 31 balls.
With the team score at 164/2 in 11.3 overs, in came Geneva XI stars captain and an excellent aggressive batsman Kuldeep Rawat, however it was not his day and he managed only 14. Arjun on the other end continued his excellent form by scoring yet another half century in just 27 balls before being caught at midwicked by TM Mohammed.
XI Stars reached 200 in 14 overs and finally fury of runs in the last few overs brought the score to 259 thanks especially to the power batting by Mounir Barone who scored an impressive 30 of just 12 balls and massive 260 runs was set as a target for Uprising CC.
After the break Qaiser Qayoom began the proceedings with the new ball, and was extremely unlucky not to get a wicket of his very first ball when Uprising CC power player Amir Khan was dropped. Uprising openers batted well to keep on track with the required run rate, but the chase started unraveling when first wicket fell down at 76/1 in 8.4 overs. Aamir Khan was the first to go, scoring 34 from 27 balls with two 4's and two 6's caught by Arjun of Aamir Ali. Next batsman S Singh was immediately out to an impressive Himank Anand . K Chaitaya was the next target of Aamir Ali who was caught by Vipin on the mid wicket fence when he was playing on 39 from 35 balls , with Uprising CC team score on 91/3 from 10.2 overs.
Amandeep Singh next chipped in with the wickets of dangerous Nelson Burrell and F.Mian relatively quickly and the writing was on the wall with Uprising well behind the eight ball at 114/5 in 14 overs, still needing massive 140 runs in 6 overs.
Mounir Barone then picked up the wickets of Bhaskar and Pardeep Kumar with the team score reading 116/7. Next batsmen in, Malik and R.Rasanayagam managed to get 38 runs in the rest of the overs and Uprising fell short of the target by 105 runs. A big win for XI Stars over last year semifinalists and a big bost to their NRR in a very tough group.
Geneva XI Stars take on GICC in their next Pickwick Cup T20 game on 22 May at Bout du Monde starting at 3pm. The game will be scored live on CricHQ and can be followed here: CricHQ
Latest News-2015
Geneva XI Stars Winter Indoor Training Starts from 6th December 2015
Geneva XI Stars lose to GESLCC in high scoring affair
09.06.2015,

Geneva XI stars lost its PickWick Cup T20 match against Geneva Srilankan Cricket Club by 7 wickets. In a closely fought match batting first Geneva XI stars scored 185 runs in their allotted 20 Overs but GESLCC chased the runs in the 19th over mainly due to some big and effective hitting by Uddika of GSLCC. We congratulate GESLCC on a magnificient win.
Geneva XI Stars prevail in two high scoring run chases.
27.05.2015, Saleem Awan

Amidst all the glamour of T20 cricket, it was not a surprise that the two T20 matches played at the Onex, where the hosts Geneva XI Stars were pitted against a very promising Swiss Colts side and Cossonay cricket club drew all the excitement from the competing players.  
Geneva XI Stars vs Swiss Colts
The Onex cricket ground is a belter of a wicket and it was no surprise that the Colts after winning the toss elected to bat first. They were off to a solid but slow start, but the young batsmen opened up once they saw off the opening bowlers and got a measure of the wicket and the ground. Aidan hit some delightful strokes and was hitting almost at will before holding out in the deep for a well played innings of 91 runs which was appreciated by everyone present in the ground. Jai Sinh, who came in the end overs of the match, also smashed the ball all around and the Colts ended at 171 runs for 3 wickets at the end of the 20 overs. It was a good score, and fresh from their wins against GICC and Uprising, Swiss Colts were high on confidence but any hope they had of making any early inroads into the experienced and explosive batting line up of the Geneva XI stars vanished quickly as both the openers Waleed Saleem and Kooldeep singh went about chasing the runs with ease and completed a 100 runs partnership before Waleed got out for 47. Kooldeep remained not out on 49 and XI stars won the match comfortably by 8 wickets. The Colts earned the respect of everyone present on the ground as they proved to be worthy opponents and the team to look for in future games.
Geneva XI Stars vs Cossonay CC
In the 2nd match of the day, Cossonay were asked to bat first and they were off to a disastrous start as they lost their first two wickets quickly. Opener and ex skipper Arjun Singh hung around and got himself in and started attacking the XI star bowlers knowing well that they need a good score to challenge the opposition. Cossonay's cause was helped by some sloppy catching and fielding by the XI stars. Arjun was finally out for a well played 70 runs and some late hitting from Cossonay tail meant that they ended the innings on a very imposing total of 182 runs at the end of their stipulated 20 overs. For XI stars Amandeep sing, Mounir Barone and Qaiser all shared two wickets apiece. Cossonay was very confident of defending this huge total as XI stars needed more than 9.1 runs an over to overcome this total. Geneva XI Stars this time send Mohammad Ali Malik to open the inning with Waleed and both of them started aggressively by scoring at more than 15 runs an over in the first four overs and Cossonay was crumbling at this onslaught when Kishwar of Cossonay who was smashed for a few sixes mankadded Waleed when t bowler was in his delivery stride and the batsman was backing up. Cossonay did not withdraw their appeal and Geneva XI Stars sportingly respected their decision and went about chasing the score. Opener M.Ali Malik scored a stylish 59 runs before he was out to Aftab for 59 runs. However Humayun Sherzai of XI star showed composure and class to keep the scoreboard moving with Mounir Barone but both of them were out in quick succession for 36 and 22 runs respectively and Cossonay seizing the opportunity of a win tightened their bowling and looked like that they will pull off a victory when 55 runs were needed in the last 4 overs by the XI stars which means that they had to score at an astonishing rather 14 runs an over. Vipin Pavithran of XI Stars however had different ideas and he exhibited calm, composure and class to keep the scoreboard moving and hitting some big shots to keep with the run rate. With 12 needed of the final over, the nerves reached the climax but a massive 6 followed by a classy four of the first two balls tilted the contest completely in the favour of XI Stars and the they won the game with 3 balls to spare. This was a classic T20 match and surprisingly huge crowd present at the ground thoroughly enjoyed the match by cheering both teams.
Two wins in 2 matches means that XI Stars now go to the top of the table in Group A and warning has been sent to other teams in the fray that they will be a team to look for going deep into the tournament.
Season Begins
25.03.2015
First Warm Up Cricket session for 2015 season will being at Onex on 5 April 2015, 12.30pm.
Zuoz International Cricket festival

23.03.2015
Geneva XI Stars CC has once again been invited to play in the Zuoz International Cricket Festival in the beautiful Alpine ranges during 13/14 of June.

The annual tournament is a popular 30 over tournament played among top clubs from mainland europe. Geneva XI Stars CC has been the runners up in the last two editions and this year they will hope to go one step further.
For more details about the tournament and how to participate please send an email to the club.
More details about the tournament can be found on Cricket Switzerland website: Click Here

League rule Amendments
20.03.2015
New Rules are in place for Cricket Switzerland 40 over league competition starting from 1 April. The following text is reproduced from Cricket Switzerland website regarding the  rule changes. To check the original article published please click: . http://www.cricketswitzerland.ch/news/2015/league-rule-changes/

New Rules
A winning team will now be awarded 10 points, 5 points will be awarded for a Tie/Abandoned match, and a maximum of 1 bonus points can be gained by firleding a Swiss born player, an U19 player or a Women player.
Other league rule amendments applicable to the 2015 season are:
- A club forfeiting a match is deemed to have lost the match and forfeits 10 points from its league table in the current season and an additional 5 point deduction will be carried forward to the following season.
- Both teams must complete the players names and registration numbers before the toss. Umpires will ensure this rule is strictly adhered. A new match report form will be adopted from 2015 season.
- A team not present 20 minutes before the game shall be deemed to have lost the toss. The match form must be completed before the start of game.
- Where a fielding side has no dedicated scorer, the team shall field with 10 player and the 11 player will perform the duties of a scorer. No point deductions is made.
- Net run rate (NRR) will be used to decide the position of the team in the points table where two teams have an equal number of points.
NRR calculations will be carried out according to the ICC guidelines.
- Clubs failing to provide an allocated umpire, will result in the automatic deduction of three league points for the current year in that competition.